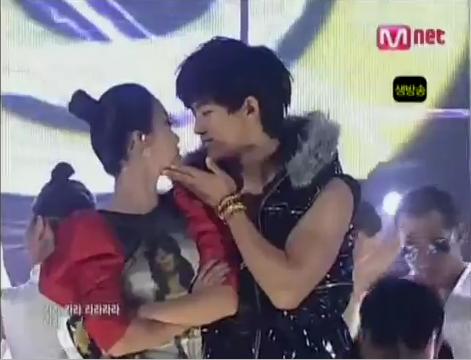 Baek ji young appeared on KBS 2TV show 'Yoo Hae Yul's sketch book diary' where she revealed how her duo with 2PM Taekyeon created a fuss. Recently Baek Ji Young steamy duo with Taeyeon made many fans jealous. Baek Ji Young was asked if 'Have you gotten more fans as you have done a Duo with Taekyeon?" but truthfully replied 'I have got more Antis increasing than Fans'
'The messages i get i always reply' the replies were 'I know what you guys are feeling too. I've liked Park Nam Jung before as a fan. With this chance will let me support Taekyeon and assure full support to fans'. However the replies i got were
'Why the hell are talking informally to me?'
she said how surprised she was.
Personally I don't think these are really replys from Hottest ... as Hottest has always been supporting of this collaboration ...
9 years ago at 2000 ... Baek Ji Young was push out of the entertainment biz when a sex video of her got around. I think these Antis are just back in biz when Beak Ji Young returns ...
Source - Daum,
2pm
@2ONEDAY.COM (Trans)